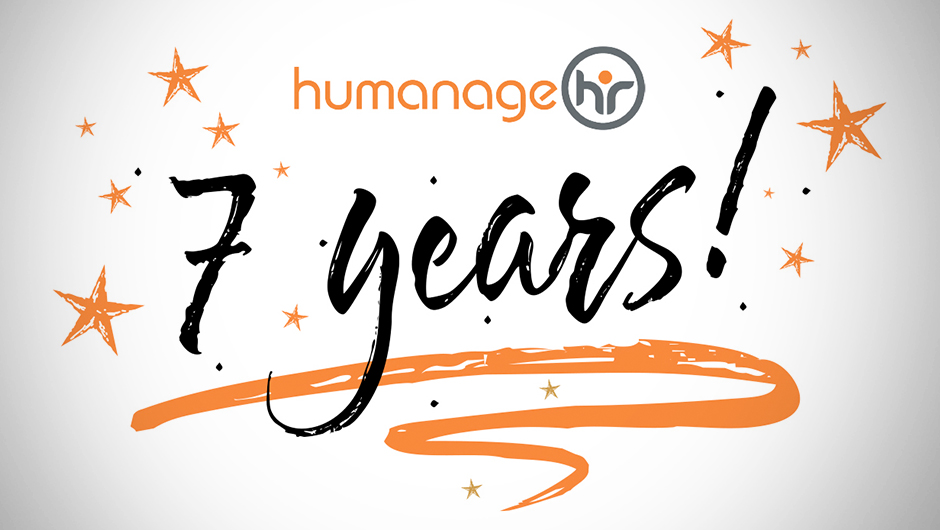 17 Nov

Celebrating 7 Years

Seven years ago, I decided to quit my job and start my own business. It was exciting and terrifying, sort of like jumping off a cliff into the ocean (which I've done by the way, while screaming). I was determined to put my nearly 10 years of HR experience and my MBA to work.

During my career as an in-house HR practitioner, I realized that small businesses desperately needed help, the kind of expert support they typically can't afford as a full-time position. I wanted to make a difference and help small businesses thrive, and I wanted to create something that was going to bring me joy.

So, I set out on my path, with intention. I thought about what kind of leader and what kind of business I wanted to be; innovative, responsible, results-oriented, authentic, trustworthy, compassionate. As I was working out my business plan, Maya Angelou's quote kept coming up in my head, "I've learned that people will forget what you said, people will forget what you did, but people will never forget how you made them feel.".

Thank you, Maya Angelou!  I love that quote so much it's remained on all iterations of my website from the beginning. That's what I wanted; to serve clients from the heart and have a positive impact on the success of their business. I didn't just want them to see the impact, I wanted them to feel the impact. I've been so fortunate these past seven years to work with amazing clients, and I'm so excited for what the next seven years will bring.

For those of you who have taken the leap and started your own business (which is most of you subscribed to this blog), what key lessons have you learned? Would you do anything differently if you could? What advice would you give to those soon-to-be entrepreneurs?

Here are a few things I've learned:

7 Lessons I Learned From Starting My Own Business
Stepping outside of my comfort zone – This was a tough one for me! I'm not a salesperson, but when I started my business, I had to be my own sales and business development lead. This includes networking and public speaking, neither of which comes easily to me. It also includes continuously finding ways to creatively explain my services to people and to differentiate my business. However uncomfortable, I could not avoid these things and being comfortable doesn't helps us grow. As a Brene Brown fan, I'll share a quote of hers from her book Daring Greatly that has helped me: "Courage starts with showing up and letting ourselves be seen.".
Setting goals and boundaries is necessary – Most of us entrepreneurs put our blood, sweat, and tears into our business. In the beginning, I didn't sleep much, I worked around the clock, including weekends. It's not healthy and it's not sustainable long term. I realized I had to have some balance in my life if I wanted to serve others. I made a commitment to not work past 6pm, with the exception of emergencies, and not work on weekends (well, mostly, as I write this blog on a Saturday!). I make time for me, whether it's getting outdoors, working out, a facial, or a good book. Business school also engrained in me the importance of setting goals – if you can't see where you're going, how will you get there?  I set annual goals each year, and assess them every quarter. Sometimes I add bonus goals along the way to keep it interesting and challenge myself.
Stick to what brings me joy – I make it a point to be true to myself and pay attention to what causes me anxiety and what brings me joy. I throw out the things that don't bring me joy (que Marie Kondo) and reinvent as I go along. For example, I don't enjoy creating IIPP's, nor is it really my area of expertise, so I stopped doing them. Instead, I got certified as a DiSC facilitator so I could help teams work more effectively and productively. For those of you unfamiliar, DiSC is a workplace personality assessment with years of psychological research behind it, and it works.
Making a difference is so rewarding – For me, there is nothing more fulfilling than hearing from clients that they are thankful for me and the value I bring to their business. I've had clients write me notes of gratitude and insert it into the check they send me. I have a client who literally calls me her "binky" – it's the best and so heartwarming! I try to treat every client as if they're my only client, and when I hear directly from them what difference I have made in their lives, that gives me purpose and motivation to keep doing what I'm doing.
5You can't do it alone – If you're anything like me, you are a strong, independent person and you sometimes struggle with asking for help. I've learned these past 7 years that I can't do it alone. I need my support network; my marketing team, my bookkeeper, my CPA, my financial advisor, my therapist, my fellow HR pros, my friends, my family, my power partners, my life partner. Who you surround yourself with shapes who you are so I try to be intentional with who I include in my circle.
Comparing yourself to others is not cute (or helpful) – Yes, I have imposter syndrome – that little voice in my head that tells me I should be doing more, that I'm not good enough, that I should be doing what so-and-so is doing. Often I have to internally punch and drop-kick that voice like I do to the punching bag in kick boxing class, with the hot pink gloves a friend once bought me. I journal and do self-affirmations and remind myself everything I've overcome to get where I am today.  I remind myself that I'm a badass.
Stay humble and compassionate – Sure, I'll humble brag a bit when I land a really cool client, but I don't like to "toot my own horn" a bunch. Nothing wrong with that, it's just not me. There are so many ups and downs to owning your business, and no matter how much you plan, sometimes you don't know what's around the corner. I think it's easy to get lost in the chaos of running a business and forget to slow down enough to be grateful. With everything that 2020 has brought, being grateful, compassionate, and showing empathy is one of the most important things we can do as leaders. I made a commitment when I started my business to give back, and each year since I started HumanageHR, I donate to various nonprofits that support at risk youth, racial justice, LGBTQIA, and marginalized communities. I volunteer at a nonprofit organization in a job readiness program, helping folks overcome barriers to reconnecting to the workforce. I've learned that helping people, listening to their experiences, keeps me humble and helps me grow as a human being.
Phew, writing this was a great exercise for me and a much needed reminder of what's been accomplished! Now, to keep with the "7" theme, here are 7 things I love to do, especially because it relieves business owners and leaders of stress, worry, and wasted time.
7 Ways HumanageHR Can Add Value To Your Organization
Help you attract, engage, and retain talent
Create compliant (and competitive) policies and practices
Repair dysfunctional teams
Improve performance challenges
Give expert advice and tools to address leadership challenges such as: giving feedback, conflict resolution, disciplinary action, hiring and firing best practices, and compensation decisions.
Assess and address your organization's "culture climate" (think morale, engagement, DEI, satisfaction etc.)
Conduct workplace harassment investigations and provide harassment prevention training
*Bonus support: Just listen when you're having a tough day and need to vent
I want to thank all of you from the bottom of my heart for being a part of this amazing journey.  I could not do this without you! Stay tuned to hear what exciting new things we have planned for 2021. Cheers to the success of your business and to the next 7 years for HumanageHR!