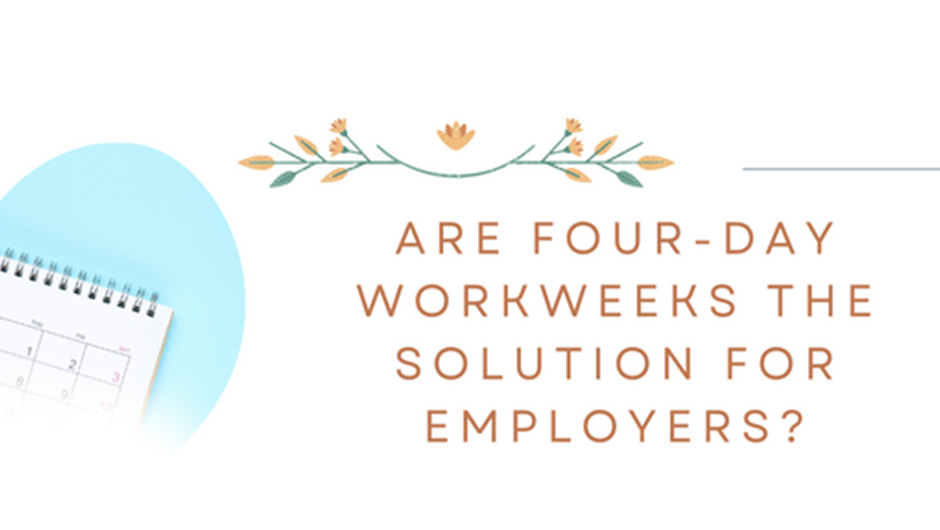 21 Mar

Are Four-Day Workweeks The Solution For Employers?

We know that 2023 is and will be another year of disruption and complex employment challenges for organizations to navigate. Enter the 4-day workweek debate.

The idea of a 4-day workweek is not a new concept but it's having a moment and is a hot topic of debate amongst HR folks and leaders. Some argue this is the solution to flexibility, others believe it will cause ripple effect problems and leave people overwhelmed with work.

Let's dig into both sides of the debate and pros and cons.

Those in favor of the 4-day workweek argue that people can get their work done in 4 days just as well as they can in 5 days. They see it as a solution to the burnout, hustle and grind culture that persisted for so long and was exposed during the pandemic.

The 5-day workweek construct in the US first appeared in the days of Henry Ford Motor Company, during the Great Depression era. That was a long time ago, when belief systems and values around work and life were very different from now. New generations don't look at work the same way as baby boomers did – they don't live to work, and their entire identities aren't wrapped up in their career. Honestly, who wouldn't want an extra day off every week?

There are success stories circulating from companies in the US and in other countries that have already implemented this schedule. People report feeling less stressed, have more time with their families and in their personal lives, and this schedule allows them to enjoy (and handle) life experiences outside of work. Many companies that have implemented a 4-day workweek have seen an increase in attraction and retention, wellness, cost-savings, and productivity.

Conversely, the other side argues that crunching a typical 40-hour workweek into just 4 days causes more stress and chaos. What are the payoffs for having that extra day off? Some employees who have switched to this new schedule, while they report enjoying the additional time off, also share that it can result in frantic days and exhaustion at the end of the workday.

This can lead to employees responding to emails and finishing projects on their days off. It can also pose challenges for companies that need to deal with clients working 5-day weeks. Communication breakdown and lack of time to connect with each other is also a possible consequence to consider.

Squeezing the same amount of work into a 4-day workweek means people must find ways to be just as productive with less hours in the week. For some, this can be exhilarating and for others the urgency and pressure can add heightened levels of stress.

So, where does that leave us?

I believe implementing a 4-day workweek without first asking employees what might work best for them is not the solution. The new world of work can take many shapes and forms, and there is no one-size-fits-all solution.

Adjusting workloads and schedules where possible, encouraging employees to take time off to recharge, and offering flexible working arrangements is the solution. Employees need flexibility to work where and when is best for them, to be most productive. For some, this might look like a 4-day workweek, for others this may mean working different days or hours of the week or remaining remote. One thing l'm certain about is having a 4-day workweek requires intentional implementation, tools and technology, and ways to continuously monitor what's working or not working.

Of course, there are some industries and workplaces where this type of flexibility isn't possible. However, there are plenty of opportunities for this that aren't being explored simply because leadership is resistant to change, or because finding a practical solution feels overwhelming.

Data shows flexibility is a top priority for workers, and it helps with employee retention. In fact, it's almost the only thing anyone wants to talk about when it comes to work-life transformation. Adopting the right model, or mix of options, just depends on the type of business space you occupy and goals you have.

If you're curious in exploring, start by asking your employees what might work best and see what comes out of those conversations and surveys. If you have highly competent, high performing teams, offering some form of flexibility will only help retain them and keep them engaged.