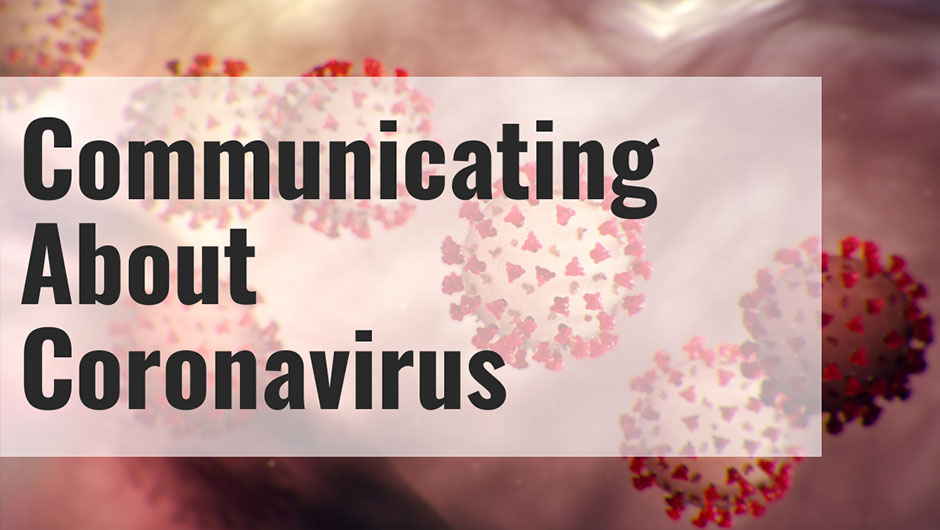 14 Mar

COMMUNICATING ABOUT CORONAVIRUS

Everyone is being flooded with information pertaining to Coronavirus, but I would be remis if I didn't share some helpful tips at this time.

It is important that employers stay on top of their employees' workplace safety.  I recommend sharing information with your employees about the Coronavirus outbreak, staying on top of developments, and taking initiative on contingency planning. Below is a sample communication, but, of course, you should make sure it accurately reflects your workplace and the steps you are taking.

One of the biggest issues will be how to handle pay if extended absences become necessary. There is no one size fits all answer to this.  It should be handled consistently within your company and will depend on your current policies, any government assistance that may become available and the extent to which your employees may be out of work.

In other Coronavirus crisis news, some small employers, including several of my clients, are having to lay off employees due to a decline in business. If you have questions about this, feel free to contact us. As an alternative to consider, The California Employment Development Department (EDD) has a Work Sharing program to help you avoid mass layoffs by sharing the available work among employees. The work sharing program allows for the payment of Unemployment Insurance (UI) benefits to employees whose hours and wages have been reduced. This program was established to help employers avoid some of the burdens that accompany a layoff situation, and is considered an alternative to layoffs. For more information about the work sharing program, visit EDD's work sharing webpage.

California's Department of Industrial Relations recently released Coronavirus FAQs on laws enforced by the California Labor Commissioner's office with helpful information for employers. In addition, I recommend reviewing the CDCs Interim Guidance for Businesses and Employers to Plan and Respond to Coronavirus Disease 2019 .

I know this situation can be scary and confusing, and it is rapidly evolving.  You can reference the following websites to get accurate and up-to-date information: CDC, WHO, State of CA Dept. of Public Health, LA County Dept. of Public Health, and the Orange County Healthcare Agency.  Of course, if you have any questions or concerns, feel free to contact me at any time.

SAMPLE NOTICE:

Given the spread of coronavirus disease 2019 (COVID-19) in the U.S. in recent weeks, we ask that you please follow these simple guidelines in an effort to keep all employees healthy and safe. While vigilance is asked of all of you, we do not believe there is cause for panic. If you have any questions or concerns, please contact [insert name].
Wash your hands often – Use soap and water and wash for at least 30 seconds, or if soap and water are not available use hand sanitizer that is at least 60% alcohol.
Do not touch your face.
Clean and disinfect surfaces often.
Cover your cough or sneeze with a tissue and then throw it in the trash. If a tissue is not available, use your elbow (not your hands) and turn away from any people nearby.  The CDC does not recommend wearing masks.
Avoid shaking hands with people if possible, including clients, customers and guests – this is for your own protection and theirs.
Health care providers are requesting that anyone with fever, cough, or shortness of breath contact the doctor or hospital in advance of going and follow any procedures they have in place.
If you are feeling sick, stay home from work. We are monitoring our workplace safety, and in order to do that it is important that you notify [Human Resources/person's name] if you will be out of the office due to any illness. Any specific medical information will be kept confidential.
Immediately notify [Human Resources/person's name] if you were exposed to someone who has tested positive for COVID-19, or if you were exposed to someone who has been put in quarantine due to possible contact with someone with COVID-19.
If you have recently traveled to areas where COVID-19 is widespread, or are planning travel to these areas soon, let [Human Resources/person's name] know.
Depending on the circumstances we may ask that you work from home for a period of time, take a leave of absence if working from home is not possible, and/or obtain a return to work certification from your health care provider before returning to work.
Internally, we are taking the following steps:
We have ordered extra supplies of hand sanitizer and sanitizing wipes and sprays. Please ensure that you have both of these in your workspace at all times.
We've asked all of our janitorial teams to regularly conduct environmental cleaning, including thoroughly cleaning tables, counters, door handles, and keyboards in shared spaces such as lobbies and classrooms.
We are thinking through our options if a large-scale quarantine or other directive, such as school closures, should occur.
We are temporarily pausing hand shaking. This can be difficult in a supportive community like ours, but for now, a wave, a smile, placing hands over heart, tipping your hat, air high fives (ala The Office) or whatever feels authentic to you will work.
Finally, we are updating our emergency contact list in the event that notification may be necessary.  Please make sure that we have your current information so that we can communicate with you in the event our workplace must temporarily shut down.
[Anything else your organization is doing to attempt to prevent the spread, including remote work, pause on work travel etc.]